Rebecca Slater, By Rebecca Studios
I'll admit, I don't brunch often - but when I do - it has to be something I can't do at home in my pjs. Icehouse does a damn good brunch. Add it to your list!
Why? Scroll down and I'll list my reasons below.
But first, a quick intro. Executive Chef Matthew Bickford is a chef to know here in the Twin Cities. Every interaction I've had with him has been great. Personal highlight? While photographing my first wine dinner hosted by Icehouse + Solo Vino - the figs had been put on a shelf out of the way. Matt asked his kitchen crew where they were (perhaps not loud enough?) but, I was first to respond with the correct location. We had a nice little moment, maybe a fist bump(?) of sorts...and he was back at work.
Kitchens are hard to photograph in. Space can be tight - the stoves are hot -people are moving fast. But, this kitchen crew made it a really enjoyable experience. During this meal, I was mostly out in the dining area to take photos. I also have a chance to sit down at the table and enjoy the meal with friends and family.
*Special note* I highly recommend making this a group outing so you can share items. Trust me, you'll want to try it all. While the plates are quite beautiful and 'instagrammable' don't waste too much time snapping pics - you'll want to experience these perfect eggs in real time.
Photos by Rebecca Slater, By Rebecca Studios for Icehouse MPLS

---
The perfect Bloody Mary for any taste preference (of course, you'll need to actually like a blood mary). The bloody mix is a special recipe made in house and each drink is served with a beer chaser.

Bloody Homer -bacon bloody garnished with mini-donut
Bloody Lisa -St. George green chili vodka vegetarian bloody w/skewer of picked fresh veggies
Sabbath Bloody Sabbath - Gin bloody
Bloody Laphroaig (my fave) - laphroaig 10 year bloody mary, duck leg garnish (my husband Mitch called dibs on the duck leg, but we all got a small bite of it)
Bloody Aquavit - Tattersall aquavit, shellfish garnish
Live music - check the schedule here, but often times there is live music during brunch.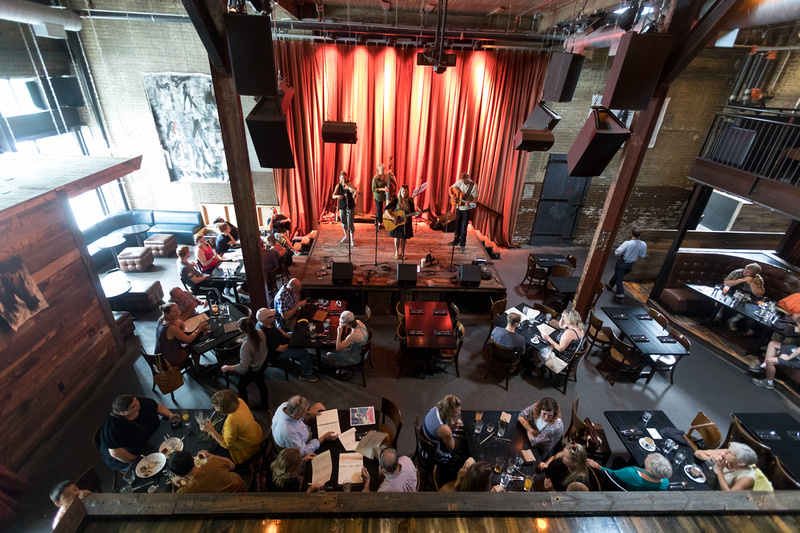 Chilaquiles - Braised chicken, roasted poblano, queso, red chile, crema sunny egg perfection. This was a personal favorite dish.
Pastrami & Egg "P & E" was an overall table favorite. It has roasted chiles, fontina and aioli on a house made bun.
Pastry Chef Caity Erdmann finishing the buns for breakfast. Also on her list? Biscuits, assorted pastries, english muffins and donuts that garnish the bloodies.
I'm a huge fan of Eggs Benedict. If it's on the menu, I most likely will order it. While I was a little hesitant about adding salmon instead of my beloved ham - this plate was quite delicious and a nice change up to my normal order.
MAKE room for the Breakfast Pastries Royale. While these pastry types will vary, you'll be guaranteed a mix of sweet and savory. If you're looking for a lighter option, you could order the Breakfast Pastries Regular, or other items individually. My little brother's favorite item was Apple Caramel Roll and just as siblings do, we fought over the last bites (he won).
Chef Matt working on the final plating.
Don't forget the coffee... we started with it! I had to include this shot because duh, the cream mixing in with the coffee view through a clear mug is just too perfect. Great job pouring Mitch.